BUSINESS OPERATIONS
Are You Falling
Behind Digitally?
DIGITAL TRANSFORMATION
Is Your Digital Transformation
Failing?

TECHNOLOGY
Blockchain Is for
Real. Are You
Building on It?
Process Outsourcing Services
At iBridge, we are proud to offer process outsourcing services to companies of all sizes. Our services help companies streamline business functions, improve communication between departments, and lower your monthly costs. Our team has worked on a range of products in diverse industries from Healthcare to Manufacturing, Legal, Financial, and more. We have worked with companies to automate and manage accounts payable and receivable solutions, build private label credit card programs from issuing plastic to collections, working covered entities and software providers to uncover HIPAA risks and implement process and technology to close gaps.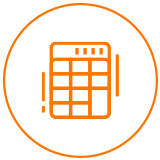 Image Processing
It is a process used to convert images into machine readable (electronic) format. We deploy several solutions to convert hard-copy data, microfilm images, and other media to electronic format. We then compare the electronic data to the original data and make corrections, creating error-free electronic databases. And, we can do this without disrupting service delivery.
Back Office Support
Our experience with data-intensive industries such as healthcare, finance, manufacturing, and legal services has put us in a prime and unique position to innovate and streamline processes that transcend many fields and disciplines. As one of the five largest document processing service providers in the legal industry, we have worked with a variety of material including patent documents, financial information, vital records, transcripts, statutes and regulations.
Accounts Payable
We are platform independent and routinely work on commonly used applications, such as, Oracle SAP, EAM systems (Asset Suite, Infor, Maximo) and Hosted Accounts Payable (A/P), and Cash Flow Management solutions. Our job is to ensure your invoices, in whatever form or format, are seamlessly converted, processed, and loaded into your accounting system.
Accounts Receivable
iBridge's solutions are based on our broad industry experience and deep understanding of customer needs. We have integrated industry proven technologies to provide customers with fast, accurate and dependable bill presentment services that are both flexible and cost efficient. In today's challenging economic environment, it is vital that businesses leverage their resources and extract the most value possible from their expenditures.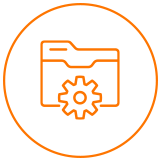 Business Records Management
iBridge provides a complete document management solution for financial service and insurance companies, using the benefits of cloud computing with advanced encryption protocols. Our highly secure, scalable, hosted solution saves organizations thousands of dollars each year by reducing support staff and nullifying hardware maintenance and software license budgets. Users of our platform have secure access to stored documents using a standard web browser in a secure session. Scanned images, transcribed reports, print streams, and electronic files can all be stored in our management system.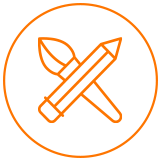 Digital and Pre-Publication Services
With a strong technology background and a specialty in collecting, organizing, converting, analyzing, and interpreting data iBridge regularly takes on Digital and pre-Publication assignments. To meet the growing and evolving need for smarter digital content, information traditionally delivered via print or simple digital files must now be created, enriched, and packaged for new formats and devices.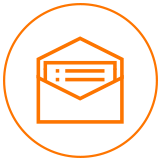 Mail Processing Services
A digital mailroom, as the name implies, is a solution for automating incoming mail. Many companies receive large volumes of paper mail. Some of the most common documents are invoices, but many businesses also receive large quantities of payment checks, claims, application forms, customer correspondence, etc. Those same documents may also arrive via fax or e-mail.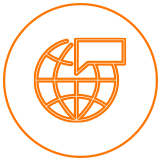 Translation Services
Working with our partners, we have a network of over 6,000 highly trained translators, reviewers, and editors who are skilled professionals in an array of critical fields including law, medicine, engineering, chemistry, and marketing. Our translators have expertise in 115 languages and are dedicated to conveying nuanced meaning allowing for correct understanding by the intended audience. We offer multiple foreign language services including translation, foreign language document review, language identification and categorization, dynamic clustering and cluster analysis, machine translation, and certified human translations.
Transcription Services
Our network of qualified and seasoned transcriptionists have familiarity and practice transcribing various types of audio files such as 9-1-1 calls, conference calls, voice mail, board meetings, wiretaps, product liability calls, depositions, and other recorded conversations.
Get the 411 on all the hot topics in tech and industry, with the iBridge Daily Digest. Sign up now for your free subscription.
iBridge is happy to share our unique perspectives, which are based on more than a decade of technology partnerships. Join the conversation, when you read and comment on our blogs, case studies, or newsletters.
We value our relationship with our clients and we're proud of such relationships that have lasted a lifetime for us. It's not only about understanding the business problem but it's about 'getting it done and getting it done well'.
That was the last of it. Phew. Thank you for all your help on this. You did an amazing job and really reduced a lot of my stress from this project. Please feel free to submit your final invoice at any time. We would appreciate it if you could do so before next Tuesday. I can't remember if I have already provided a PO for this month. If you need one please don't hesitate to let me know. Thank you.
IKON Office Solutions, Inc.
I just wanted to thank you and your team for doing such a great job and turning our project around so quickly. The client will be delighted to receive this project today, 3 days ahead of schedule. We will certainly send more work your way.
Capitol Digital Document Solutions
Earth Class Mail made the strategic decision in 2009 to partner with iBridge to process confidential and time sensitive digital information. The partnership required the iBridge to complete data processing and QA within one business day. iBridge handled the initial volume of 30,000 transactions a month in 2010 and has stayed on track as those volumes are now 80,000 transaction a month in 2016. The iBridge team consistently performs at a high-level with high accuracy, and proved, very agile as the platform, and processes changed over the years. The cost benefit by partnering with iBridge helped control day to day operating expenses that allowed Earth Class Mail to continue with its growth strategy. I would highly recommend the iBridge team to anyone looking for help with their business processes.
iBridge is great to work with. Their goal is that the customer is happy with the end result, and they make every accommodation to ensure they've deliver the product that you as the customer expect. It was also a tremendous benefit to us that they were able to set up and complete the imaging work on-site at a competitive price instead of shipping the documents to them. It allowed us to continue active use of the documents through the imaging process without an interruption to our business.
Baltimore Gas and Electric Company
We all get used to "no news is good news" within our industry, but with the job that you and your team did for me these past few days, I didn't think silence would do justice to the amazing job you all did. I wanted to take a moment to thank you and your entire team for the way that you all handled my project. From the very beginning, you and your team took this on without any hesitation and performed even better than I had expected, which soothed my nerves greatly. I can't thank you enough for you and your team's efforts, your assistance saved my client many millions of dollars, I know the project wasn't that large, but it is to this date, the most important project we have had. Thanks for always being the best partner I could have ever asked for and for always being willing to take on any task no matter how small or large it may be.
We are a service bureau; we typically process 80 to 100 discreet projects each month. A large percentage of these projects require either data capture from image or image review and manipulation. We used to perform these operations with in-house staff, but we were not able to scale our staff to keep pace with our capacity requirements. Ten years ago, we started partnering with iBridge, we were initially impressed with their competence, accuracy and their ability to quickly scale up to keep pace with our rapidly changing requirements. In the ensuing ten years, iBridge has become not only a valued partner, but also an integral part of our daily production workflow. To borrow from an old workplace adage, "you will never get fired for choosing iBridge"
iBridge has been a critical part of our operation for the last six years. They have processed 10's of thousands of documents a month for us with world-class accuracy. The team is committed to being the best with a strong focus on accuracy, speed, and process improvements. We can count on iBridge to manage the process from end to end, updating training materials, and performing against SLA's. As a result, they not only give us time back, they have given us peace of mind.
We have worked with iBridge over the years on strategy for litigation matters and developing plans for consolidation of services to drive efficiency and reduce operational costs for the firm. They are reliable, neutral and never hesitate to provide advice and analysis to help us make critical decisions. We have clear visibility in the areas of work due to the collaborative nature of the work performed.
Trial attorney and firm leader
"We have worked with iBridge for several years, and they have consistently provided us a high level of service."
We're proud to be a trusted, long-term partner to some of the world's best companies. Our clients turn to iBridge for solutions to problem after problem, and we continue to create value for them over years of dedicated service. 
Bring your business challenges to iBridge, and your business priorities become our priorities. We work with you in a partnership that's so close, you'll feel like iBridge is your own in-house team rather than a service provider. For our part, we get the job done on time and under budget, and without disrupting your business operations.
How can iBridge help guide you to a process outsourcing service best suited for your business? Contact us here!